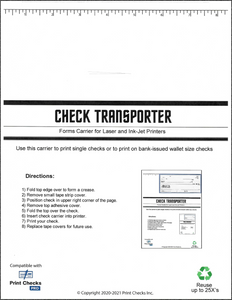 Check Transporter Reusable Carrier
PrintChecks Pro was specifically designed to use these transporters, allowing you to use regular checks like the ones you get from your bank and print data right on them.
You can also use these reusable adhesive sheets to carry the remaining 1 or 2 checks on a 3/page check safely through your printer. Each transporter can be reused up to 25 times.
Each package contains 5 carriers that can be reused up to 25 times each.
How to setup Print Checks Pro

Setup your bank account as normal in the app.

Under Default settings, set the check type to "Personal Standard"

Set "Are these preprinted checks" to Yes

Set "Has Lines" too Yes.

You are all setup to print.

How to use a check transporter with Print Checks Pro

Remove the protective films from the transporter.

Place the check (or blank deposit slip) in the upper right hand corner as shown in the picture.

Place in printer and print your check/deposit slip!

Replace the film. You can reuse the transporter up to 25 times.

See the picture of an actual check in a transporter after printing.